Health providers at U.S. military bases, some of whom are involved in treating military-connected minors, blasted the idea of waiting before injecting kids diagnosed with gender dysphoria with puberty blockers and hormones.
The DoD providers said in the March edition of the American Journal of Public Health that the only pathway for children of military members who present with gender dysphoria symptoms is to immediately move towards "gender-affirming health care, such as puberty suppression and affirming hormones."
The doctors said that on the basis of "human rights," "youths… have an inherent ability and right to consent to gender-affirming therapy."
They went so far as to claim 7-year-olds can make their own medical decisions.
The authors – David A. Klein, Thomas Baxter, Noelle S. Larson as well as clinical psychologist, Natasha A. Schvey, PhD – demanded the military train all of its providers on their ideas on gender medical interventions for minors, despite acknowledging that 53% of military-affiliated physicians in the Department of Defense health system indicated they would refuse to prescribe hormones regardless of any training.
Klein, Schvey and Baxter work at Travis Air Force Base in California, and Larson — a pediatric endocrinologist – works at the Department of Pediatrics at Walter Reed National Military Medical Center.
Some of the authors work at Uniformed Services University – a military institution. The article recommended this institution take the lead in pushing forward trainings on "gender-affirming care" within the Pentagon health system. . . . . (read more on Fox News)
Pentagon Doctors Claim 7-Year-Olds Can Consent to Puberty Blockers (Breitbart News, 23 Mar 23)
. . . Dr. Stanley Goldfarb of Do No Harm, an organization dedicated to opposing racial and gender ideologies in medicine, spoke out against the claims made in the paper. He remarked, "The notion that 7-year-old children are capable of such decisions is beyond laughable." . . .
---
Caring for Military-Affiliated Transgender and Gender-Diverse Youths: A Call for Protections (American Journal of Public Health)
Child and Adolescent Health, Mental Health, Health Reform, Lesbian/Gay/Bisexual/Transgender Persons, Public Health Practice, Health Policy, Other Child and Adolescent Health, Editorial
David A. Klein
, 
Natasha A. Schvey
, 
Thomas A. Baxter
, 
Noelle S. Larson
 and 
Christina M. Roberts
. . . . Similar trends have occurred in the
Military Health System
(MHS). The number of new pediatric-age patients presenting for gender-affirming care in the MHS increased from 109 individuals a year in 2010 to over 600 a year in 2016.
In 2017, when gender-affirming medical care was included in the list of TRICARE benefits for about one year, at least 2500 children actively sought care for gender dysphoria through TRICARE Prime insurance at military or civilian treatment facilities, and 900 received GnRH-a or gender-affirming hormones. . . .
. . . . Military dependent and nondependent TGD youths are at high risk for chronic stressors that may lead to poor mental health outcomes and risk-taking behaviors. Compared with their siblings without gender dysphoria, TGD youths seen in the MHS had over five times greater odds of a mental health diagnosis and seven times greater odds of suicidal ideation or self-harm.
The stressors encountered by TGD youths include experiences of discrimination, harassment, stigma, and marginalization at multiple social-ecological levels, and unaddressed gender dysphoria. Gender-affirming health care, such as puberty suppression and affirming hormones, mitigates these risks and optimizes patient-oriented outcomes, but many TGD youths have difficulty accessing services. . . . . .
---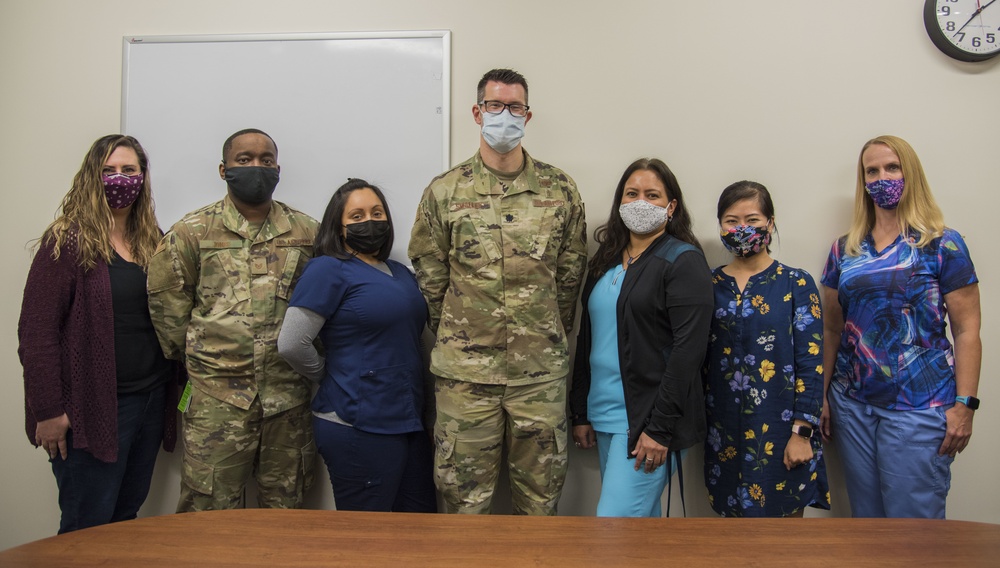 59th MDW treats transgender service members
JOINT BASE SAN ANTONIO-LACKLAND, TX, UNITED STATES
06.17.2021
59th Medical Wing Public Affairs
Team members from the Transgender Health Medical Evaluation Unit pose for a photo at Wilford Hall Ambulatory Surgical Center, Joint Base San Antonio-Lackland, Texas, June 17, 2021. THMEU provides guidance and a medical treatment plan for all active duty, guard and reserve transgender service members. (U.S. Air Force photo by Airman 1st Class Melody Bordeaux)