USAFA's Chief of the DEI office along with other staff have Diversity and Inclusion Certificates from Cornell University. What is Cornell teaching USAFA?
Considering what's coming out of Cornell University lately with an admitted Marxist professor "exhilarated" by the Hamas attack and now a student arrested for making violent threats to Jewish students, USAFA may want to rethink sending their people there to get educated about DEI.
Law Professor William Jacobson, who tracks the teachings of Critical Race Theory at universities, blames the DEI programs at Cornell for radicalizing students with their emphasis on the racialization of everything based on Oppressor vs Oppressed Marxist ideology, creating a toxic atmosphere.
He has called on Cornell to halt new DEI initiatives and form a commission to study the negative effects of DEI. Maybe that would be a good idea for USAFA too.
MORE:
ADVANCED DIVERSITY, EQUITY AND INCLUSION Certificate (Cornell University)
The Advanced Diversity and Inclusion Certificate is designed to help diversity and inclusion practitioners in a variety of functions gain in-depth knowledge of emerging trends in D&I and develop strong D&I strategies that drive organizational effectiveness and results.
CORNELL CERTIFIED DIVERSITY PROFESSIONAL (CCDP)
Earn a Cornell certification in the growing and complex field of D&I
DR. JOSEPH D. LOONEY, Chief, Diversity, Equity, and Inclusion at USAFA (Jan. 21-Present)
Diversity and Inclusion Certificate, Cornell University, Ithaca, N.Y. (2020)
We've found other current/former USAFA staff who have the DEI Certificate from Cornell (as well as military members from other services). The USAFA professor who addressed her white male cadets as "white boy 1," "white boy 2" and "white boy 3" and adds "all you white boys look alike." (see: The United States Air Force Academy's White Boy #2) has MS and PhD degrees in Economics from Cornell University
Also see Dept of the Air Force Diversity and Inclusion update (27 JUL 20): Diversity, Inclusion, and Unconscious Bias Training
The task force, in conjunction with headquarters staff, has finished post-production of a new video on unconscious bias to highlight bias mitigation strategies that will maximize talent and benefit the entire force. The task force is also working with Cornell University to enroll several members of the Department of the Air Force Barrier Analysis Working Group in an online Diversity and Inclusion certificate program. These leaders will be equipped with fundamental diversity and inclusion concepts and required to share this information with their respective teams as well as Airmen and Space Professionals at the major command and installation levels. The task force is assembling options for department leaders to determine their intent for how training will be rolled out to the forces over the coming months and years, and at what touch points in the talent management life cycle of Airmen and Space Professionals that training will be most effective.
Cornell Professor "Exhilarated" by Hamas's Attack Defends Remark (Cornell Daily Sun, 14 OCT 23)
Prof. Russell Rickford, history, is no stranger to controversial remarks. In 2017, during a "kneel-in" event in support of students and professional athletes fighting against racism in America, he led a "Free Palestine" chant, which some students regarded as inappropriate as the Israeli-Palestinian conflict was not the topic of the demonstration.
Now, some students are expressing outrage over Rickford's statement at a pro-Palestinian rally on Sunday, Oct. 15 at the Ithaca Commons. Rickford stated that he was initially "exhilarated" by Hamas's attack on Israel, in which 1,400 Israelis were killed. The United States and the European Union classify Hamas as a terrorist organization. . . .
Cornell professor on leave for remarks about 'exhilarating' Hamas attack has history of incendiary rhetoric; Russell Rickford discussed past hopes for antiracist 'insurgency' in U.S (Fox News, 7 NOV 23)
A Cornell University professor who was accused of "justifying terror" after describing Hamas' bloody operation in Southern Israel as "exhilarating" previously admitted that he was a "Marxist" who supported an antiracist insurgency to take power in the United States, Fox News Digital found.
In two videos reviewed by Fox News Digital, one from 2021 and another from 2014, Rickford discusses his desire for an antiracist "insurgent" group to take power in the United States. In one of the videos, he said some White people are ready to commit "race suicide" and goes on to discuss the "politics of violence" while simultaneously attacking the ideals of civility.
During a webinar hosted on a Cornell platform in February 2021, Rickford endorsed "radical frameworks for antiracism." The radical frameworks call for a fundamental revolutionary change in society to change the distribution of wealth in neo-Marxist fashion. "Radical antiracists… knew justice required not… dialogue… but genuine reallocations of resources and power. Attacking the roots of White supremacy meant challenging the normal operations of capitalism."
Rickford said that the Black Lives Matter movement "reflects this more… redistributive mode of antiracism," adding that "What we need is not more civil dialogue [but] more insurgent popular antiracist movements that fight the whole apparatus of oppression." . . . (read more)
Cornell Student Arrested for Making Online Threats to Jewish Students on Campus (US Department of Justice, 31 OCT 23)
. . . . The complaint alleges that Patrick Dai, 21, posted threatening messages to the Cornell section of an online discussion site, including posts calling for the deaths of Jewish people and a post that said "gonna shoot up 104 west."
According to information provided by Cornell University Police and other public information, 104 West is a Cornell University dining hall that caters predominantly to Kosher diets and is located next to the Cornell Jewish Center, which provides residences for Cornell students.
In another post, Dai allegedly threatened to "stab" and "slit the throat" of any Jewish males he sees on campus, to rape and throw off a cliff any Jewish females, and to behead any Jewish babies.
In that same post, Dai threatened to "bring an assault rifle to campus and shoot all you pig jews." The charges and the allegations in the complaint are merely accusations. The defendant is presumed innocent unless and until proven guilty. . . .
DEI Programs at Root of Threats Against Cornell Jewish Students: Law Professor (NTD, 2 NOV 23)
How Did Student Patrick Dai Become Radicalized At Cornell? (Legal Insurrection)
"There's no indication from what's been released so far about his background that he came to Cornell with these thoughts. He learned them at Cornell."
Professor calls on Cornell to make campus safer for Jewish students: 'Faculty is extremely anti-Israel' (Fox News, 31 Oct 23)
A prominent Cornell University professor has called on the school's board of trustees to take action after a series of antisemitic and anti-Israel incidents have left Jewish students feeling uncomfortable and unsafe on campus.
William A. Jacobson, a clinical professor at Cornell Law School who joined the faculty in 2007, called on the Cornell Board of Trustees to pause new Diversity, Equity, and Inclusion (DEI) initiatives, adopt the International Holocaust Remembrance Alliance working definition of antisemitism and form a special independent commission to investigate antisemitism on campus and the negative effects of DEI.
"There has been a long problem at Cornell that the administration has just shut its eyes to. The faculty is extremely anti-Israel, not necessarily the majority of them, but there is a core group of faculty who agitate continuously for the destruction of Israel," Jacobson told Fox News Digital.
The Cornell Coalition Justice for Palestine has since posted a statement in support of Rickford that has piled up over 1,300 signatures from people affiliated with the university, including many faculty members and students.
"I've seen this coming for a long time. I've covered problems at many campuses with the anti-Israel movement for over a decade at my website Legal Insurrection, including problems at Cornell," Jacobson said. "There have been multiple instances of Students for Justice in Palestine at Cornell disrupting pro-Israel events."
Legal Insurrection features posts about anti-Israel episodes at Cornell, including a 2022 report on a panel discussion that included a professor who compared the Jewish state to Nazi Germany, a 2019 Students for Justice in Palestine call to renew a Boycott, Divestment and Sanctions (BDS) effort and pro-Israel students being taunted in 2014.
Jacobson believes the school's glaring issues with anti-Israel sentiment are "compounded by the campus' obsession with race" because Jewish students are seen as the "White oppressors" when everything is viewed through an identity lens.
"It just creates a very toxic atmosphere that the administration has been oblivious to," Jacobson said. . . . (read more)
Cornell professor blames critical race theory indoctrination behind student suspect's threats (Fox News, 6 NOV 23)
Randy Wayne, a Cornell University professor who has worked at the Ivy League institution for 35 years said that he was "not surprised" that someone from the student body has been accused of making threats against Jews, citing the prevalence of critical race theory ideology on campus.
"The viciousness I can't explain," he said. "[But] I'm not shocked because this is what we're producing. This is our telos (aim) of social justice. This is our telos of separating people by identity. The students will tell you when they meet somebody, they have the victimhood Olympics. Let's see who's the most oppressed and just get your privilege that way."
Wayne argues that adherence to the social justice ideology of critical race theory is anathema to truth, and the further an institution departs from the truth the more it invites totalitarianism. He believes that radicalism cannot be reached with reason if people are afraid to speak out to counter far-left perspectives. . . .
---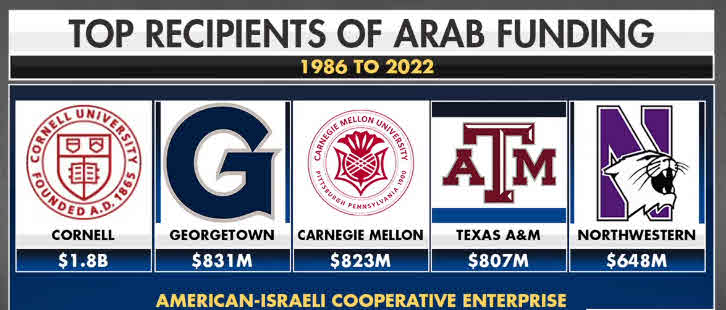 Wait for video to load:
—
Here's why, as a professor, I fight against critical race theory and DEI at Cornell (Randy Wayne, College Fix, 6 SEP 2022)
Not many professors openly take a stand against critical race theory and diversity, equity and inclusion in today's climate. It could be a career killer. It certainly makes one a campus pariah. But I have fought this battle at Cornell University for two years now. It started, perhaps not surprisingly, after the death of George Floyd, because it was then that my Ivy League employer announced it would embrace and implement policies, programs and curricula that prioritized the color of one's skin rather than the content of their character. . . . (read more)
---
Cornell's DEI Certificate Program is run by the School of Industrial and Labor Relations (ILR). On the events section on their home page is this event with a photo of a banner "Workers of the World Unite". Nope, no Marxism here.