At a recent congressional hearing, the Air Force Chief Master Sgt. responded to a Congressmen's question that the Air Force "does not have pronoun training. That is a fact, I can assure you of that."
Well maybe not the Air Force per se, but here is the Navy's pronoun training video:

RI, UNITED STATES
06.23.2021
Video by Staff Sgt. John Vannucci
Naval Undersea Warfare Center Division Newport
Conchy Vasquez and Jony Rozon, both engineers at the Naval Undersea Warfare Center, Division Newport discuss the importance of using correct pronouns as well as polite etiquette when you may not be sure of someone's pronouns. Official US Navy Video by John Vannucci
SOURCE: DVIDS
Here's How the Navy Is Training Sailors on Proper Gender Pronouns (Washington Free Beacon, 20 JUN 22)
The Navy is training its members to create a "safe space" by using proper gender pronouns in a new instructional video modeled after a children's show….
U.S. Navy Releases Video Training Sailors to Use 'Right' Pronouns, Not 'Misgender' Colleagues (Breitbart News, 22 JUN 22)
A newly-released Navy training video teaches sailors to use the "right" pronouns, "show that we're allies," and create "a safe space for everybody," while instructing service members on how to proceed after having "misgendered" someone…..
Let me make it simple for the entire @USNavy : Your pronouns are shipmate/shipmates. There. I just saved the taxpayers millions by avoiding ridiculously useless training. Anchors aweigh.

— Robert J. O'Neill (@mchooyah) June 21, 2022
---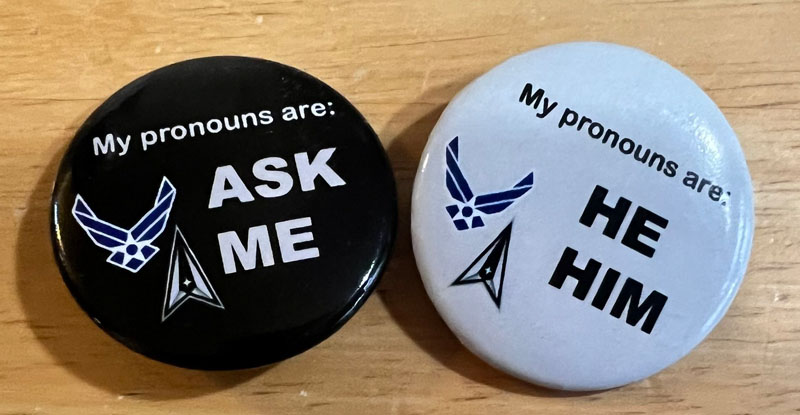 ---
2023 West Point Cadet Roleplay Facilitator Guide
A leaked "facilitator guide" for role-play exercises involving West Point Academy cadets. The exercises are meant to serve as training "for Cadets to gain competence in their bystander intervention skills" — including when someone disagrees with the progressive pronoun orthodoxy. The fourth role-play scenario for West Point cadets is titled "It's Not That Complicated" with the topic of "Understanding and respecting the pronouns people prefer."
West Point's pronoun 'play acting' training exercise and CRT lecture (Fox)
Training is similar to a video Air Force Academy cadets were required to watch:
---
Here is the Air Force's guidance on pronouns on a PowerPoint slide. Normally PowerPoint slides are used for presenting something to an audience, like . . . training.
It also doesn't have to be formal training where one takes time to attend a course or watch a required video, if it's embedded throughout the culture of an organization where people are constantly confronted with it.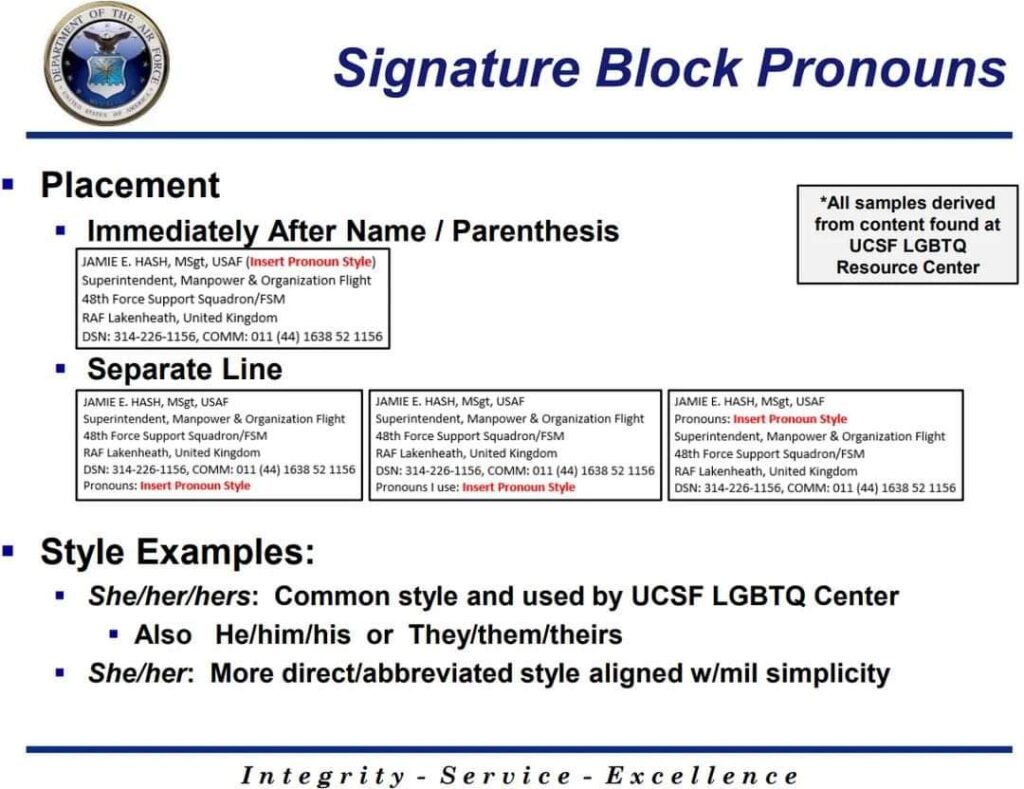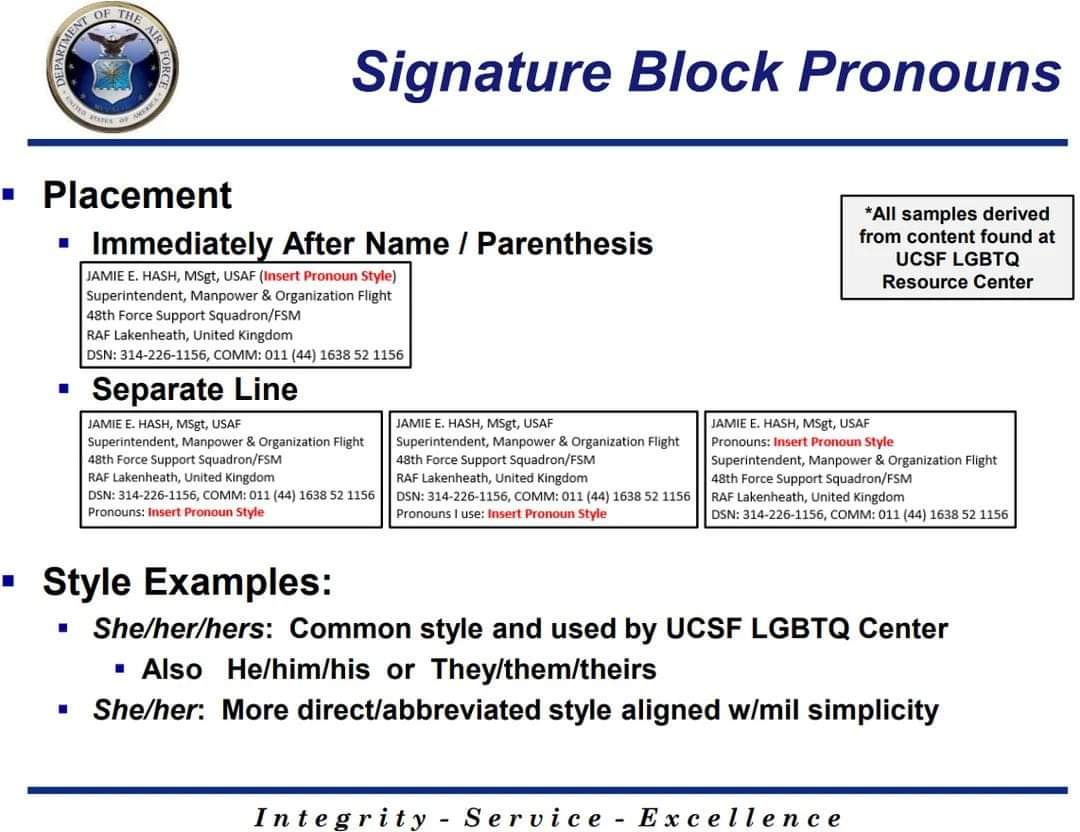 Signature block pronouns now allowed for Airmen, Guardians (Secretary of the Air Force press release, 20 DEC 21)
WASHINGTON (AFNS) — A recent update to the Department of the Air Force writing guide, The Tongue and Quill, now allows Airmen and Guardians to include pronouns in their signature block. The Tongue and Quill provides formatting standards and guidelines for a number of official documents, including email, memoranda, letters and papers.
"An inclusive force is a mission-ready force, and I'm thankful to the LGBTQ Initiatives Team for helping us realize this opportunity to be a more inclusive force," said Under Secretary of the Air Force Gina Ortiz Jones.
The LGBTQ Initiatives Team, or LIT, a part of the Department of the Air Force Barrier Analysis Working Group, advocated for this change, one of the latest initiatives the DAF undertook to address barriers to service and promote a more inclusive culture.
"The change request was driven by awareness of a restrictive policy that was being used against transgender Airmen and Guardians who were authentically representing themselves," said Lt. Col. Bree Fram, a LIT Transgender Policy Team co-lead. "It was also important for many individuals often confused as being a different gender in their communications."
This effort was led by the LIT, with support from the Pacific Islander/Asian American Community Team, and the Women's Initiatives Team, other teams of the DAFBAWG.
Master Sgt. Jamie Hash, the other LIT Transgender Policy Team co-lead, also explained that the explicit permission to use pronouns, a practice that is now common in the civilian sector, gets the DAF further down the road of explicitly acknowledging the existence and dignity of non-binary military members and civilians. She added that this change eliminates confusion for people with non-Anglo/Western or gender-neutral names.
"The LIT provided an opportunity to streamline the process for this change," Hash said, explaining that this change was a request she started from her installation's Diversity and Inclusion committee. "It is an example of how the DAFBAWG teams are addressing barriers, collaborating, and executing solutions in ways that have not been seen before to help Airmen and Guardians thrive."
Official signature blocks should include name, rank, service affiliation, duty title, organization name, phone numbers and social media contact information. Pronouns such as he/him, she/her, or they/them are now authorized but not required. An example is:
ANGEL ALONSO, Capt, USAF (he/him/his)
Occupational Therapy Element Leader
48th Operational Medical Readiness Squadron
RAF Lakenheath, UK
DSN: 555-1212
Pronouns can be placed immediately after the name in parentheses or on separate lines within the signature block.
"A foundational competency of the DAF is to foster inclusion," Fram said. "The use of correct pronouns is an easy way to show care and respect for Airmen and Guardians as individuals, and can help the DAF retain highly qualified individuals. Allowing pronouns in an individual's signature block is a quick and simple way to eliminate confusion and promote a more inclusive culture."
---
From our Boots on the Ground Perspective page: (what is happening at the service academies)
On Wed, 7 Sep, USAFA Cadets received another Diversity and Inclusion briefing. During the training they were told to ask each other about their "pronouns" and counseled to use inclusive language like "partner" instead of "boyfriend" or "girlfriend" and "parents", "caregivers" or "guardians" instead of "mom" or "dad." They were also told not to use phrases such as "colorblind," "I don't see color" or "we're all just people."
One cadet's reaction: "It was identity politics on steroids."
Another cadet said many cadets sit through the sessions, then mock them. They don't take it seriously.
This past summer, a cadet who was serving as cadre during Basic Cadet Training was ordered to ask all his cadets if they were "gender fluid" or not.
Linked is a video that the incoming class of 2025 cadets were required to watch as part of their appointee checklist; they were not authorized to travel to the academy until the checklist was complete- including Diversity and Inclusion training consisting of this video among others.
---
Here is the Army's pronoun/gender training:

US Army Trains Officers on Gender Identity (Washington Free Beacon, 1 MAR 22)
The U.S. Army is putting its soldiers through training on gender pronouns and coaching officers on when to offer soldiers gender transition surgery, according to an official military presentation on the subject obtained by the Washington Free Beacon.
The mandatory presentation, "Policy on the Military Service of Transgender Persons and Persons with Gender Dysphoria," was given to officers earlier this month along with instructions for them to train their subordinates on the material. Portions of the presentation were provided to the Free Beacon by a whistleblower who was ordered to undergo the training as a high-ranking officer in the Army Special Forces.
An Army spokesman confirmed to the Free Beacon that the slides in question are part of "mandatory training" and come from an official program "used to train Army personnel on the recent changes to the DoD and Army transgender service policy." All Army personnel, from soldiers to commanders and supervisors, are required to participate in the training by Sept. 30, 2022, according to the spokesman. . . . (read more)
Army Policy on Transgender Military Service (Army HQ, 25 JUN 21)
TRAINING VIDEO:
Army Transgender Policy NYARNG Leader Brief (DVIDS, 11 FEB 2017)
U.S. Army Transgender Policy Tier 3 Training for Units and Soldiers (DVIDS, 27 MAR 2017)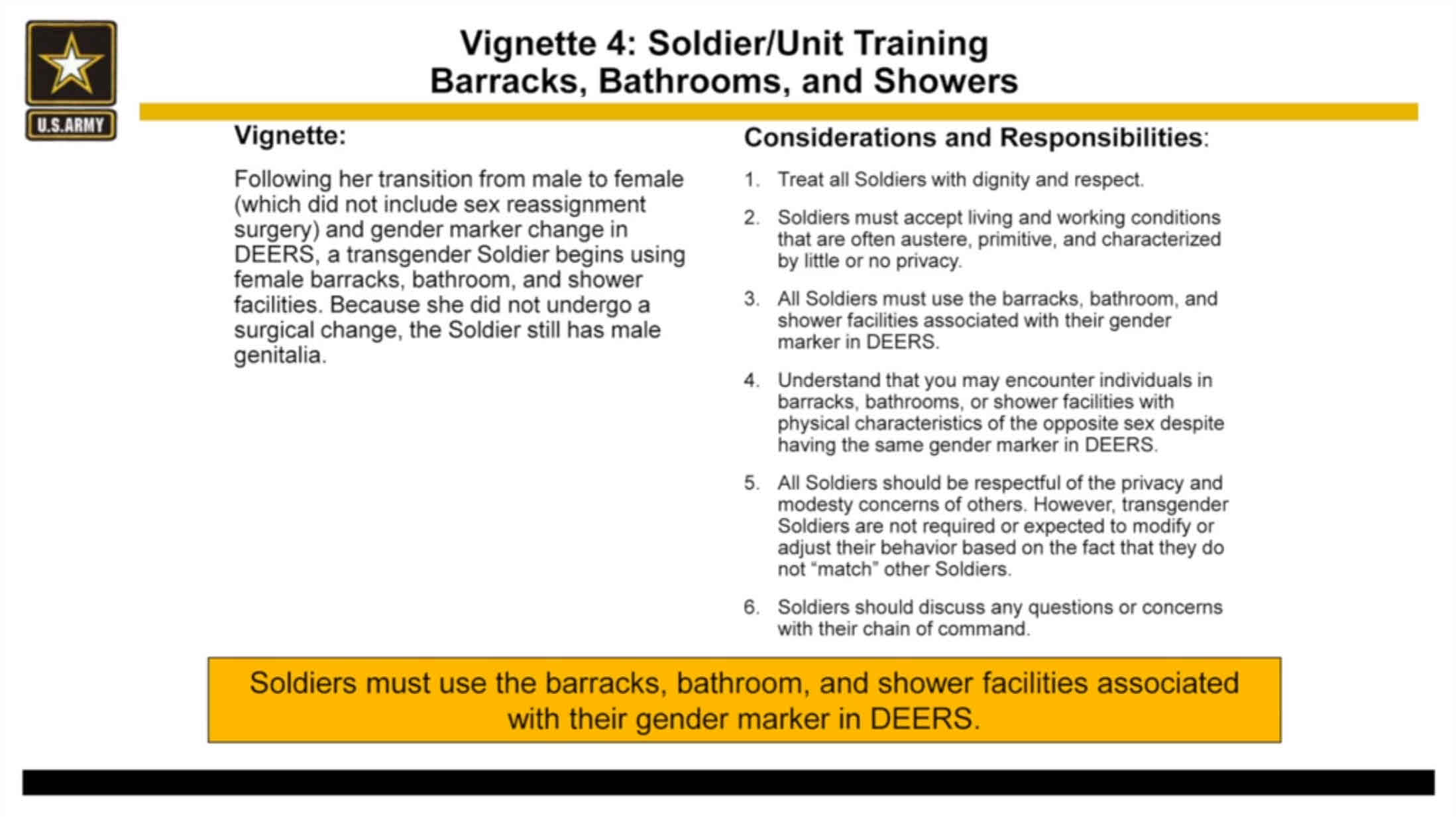 ---
Additional military training where pronouns are discussed:
---
Also see:
Air Force follows revised DoD transgender policies (US Air Force press release, 13 MAY 21)
Biden Pentagon Quietly Expands Woke Transgender Policies in the Military (Elaine Donnelly)
Air Force Academy diversity training tells cadets to use words that 'include all genders​,' drop 'mom and dad' (Fox News, 22 SEP 22)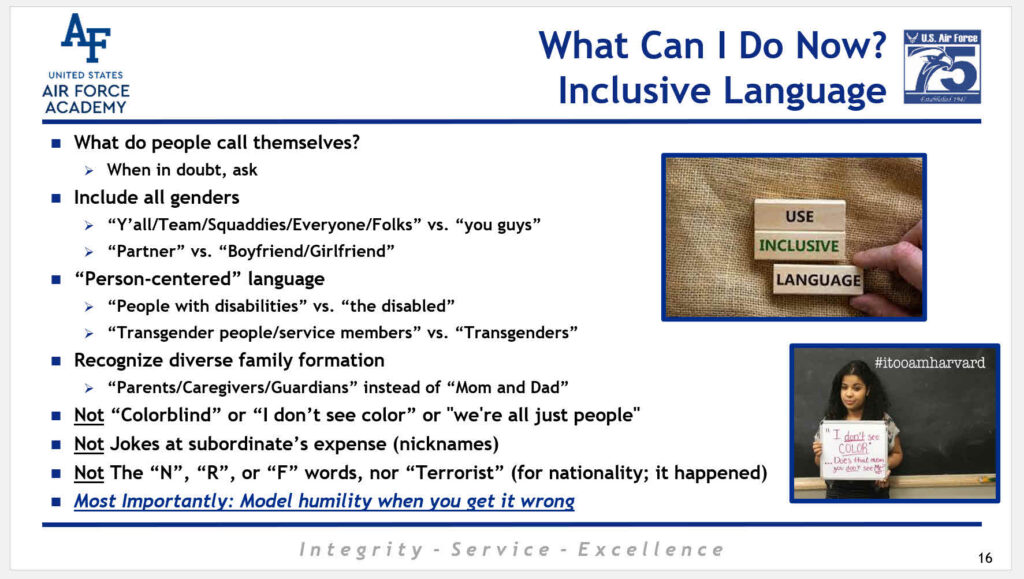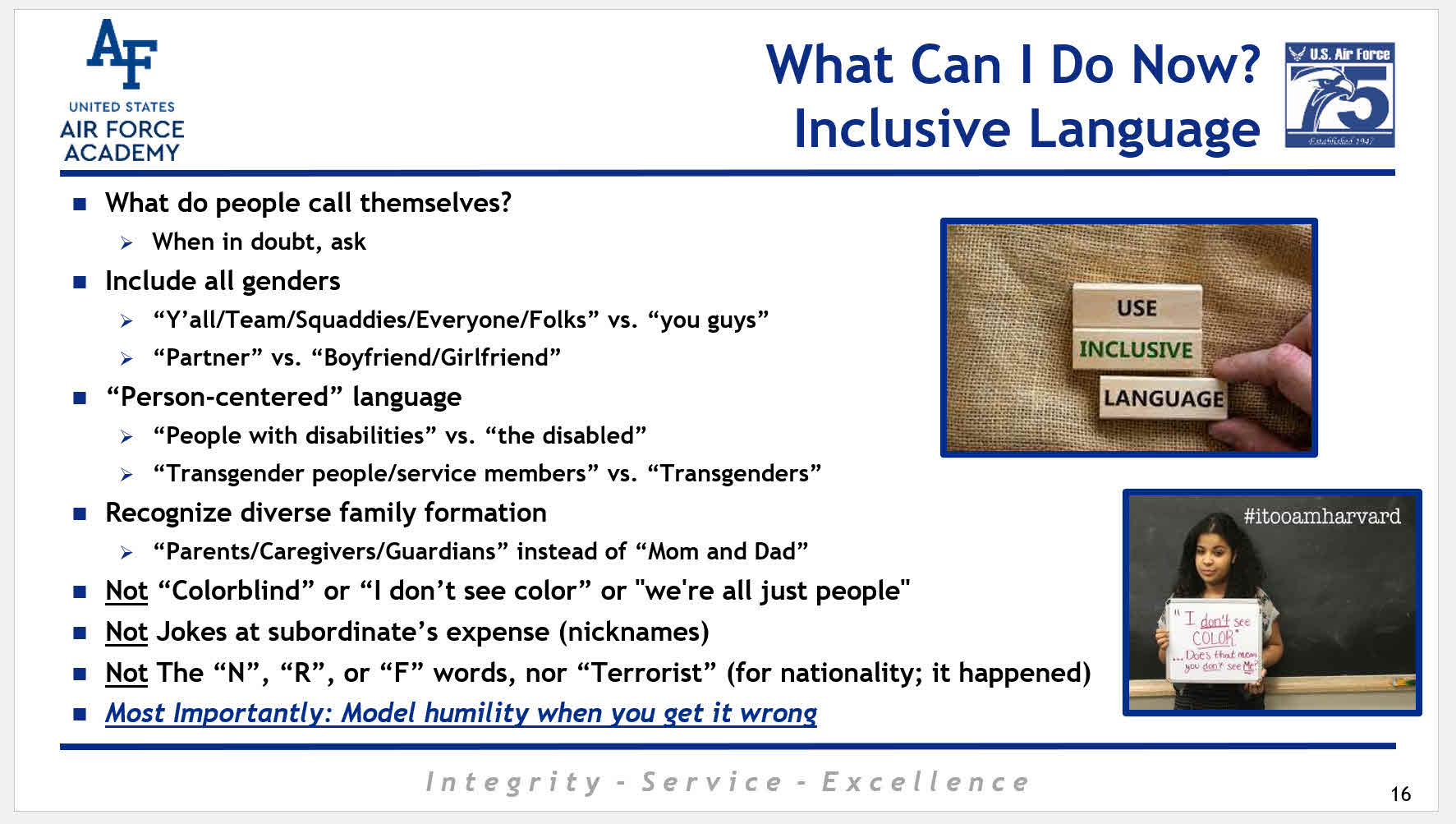 Tom Cotton blasts new 'woke' Air Force Academy training: Kids don't join the military to learn pronouns (Fox News, 22 SEP 22)
Sen. Tom Cotton, R-Ark., criticized a new military training curriculum that instructs cadets to refrain from using gendered language, including terms like "mom" and "dad." On "The Faulkner Focus" Thursday, Cotton warned the recruitment crisis is dangerous for America and said things like social justice trainings aren't helping the problem. . . . .
Air Force Academy promotes fellowship that bans 'cisgender' men: 'This program isn't for you' (Fox News, 23 SEP 22)
The United States Air Force Academy (USAFA) in Colorado is encouraging cadets to apply for a fellowship program for "gender minorities" that specifies "cisgender" men need not apply. The academy sent an email on Sept. 14 informing cadets that the 2023 application for the Brooke Owens Fellowship for "undergraduate women and gender minorities interested in aerospace" is due by Oct. 10. The application on the fellowship's website says, "If you are a cisgender man, this program isn't for you."
"If you are a cisgender woman, a transgender woman, non-binary, agender, bigender, two-spirit, demigender, genderfluid, genderqueer, or another form of gender minority, this program is for you," the application states. "If you are a cisgender man, this program isn't for you… but we encourage you to check out our spinoff programs, the Patti Grace Smith Fellowship and the Matthew Isakowitz Fellowship Program." . . .
U.S. Forces Ordered to Stop Using Gender Pronouns to Improve 'Lethality' (Washington Free Beacon, 31 AUG22)
…."In accordance with the Diverse PACAF priority, 'We must embrace, promote and unleash the potential of diversity and inclusion," states a May email sent to senior leaders and commanders at the Andersen Air Force Base in Guam, which operates under the Pacific Air Forces, according to a partial copy of the order obtained by the Washington Free Beacon.
Leaders at the base are instructed, "Do not use pronouns, age, race, etc." when writing performance reviews or other materials, such as recommendations for awards. "Competition against near-peer adversaries requires a united focus from the command, the joint team, and our international partners. Welcoming and employing varied perspectives from a foundation of mutual respect will improve our interoperability, efficiency, creativity, and lethality." . . . .
US military offered 'woke' professional development courses on diversity, equity (Fox News, 27 MAY 21)
DOD confirmed an online 'Diversity, Equity and Inclusion' course was offered to military personnel in May
Navy's 'extremism' training says it's OK to advocate for BLM at work but not 'politically partisan' issues (Fox News, 29 MAR 21)
The US Navy's "extremism" training says it's okay to advocate for Black Lives Matter (BLM) while at work but sailors are not allowed to discuss "politically partisan" issues, according to training slides obtained by Fox News.
A question posed in a "scenarios for discussion" slide asked if BLM was "political stuff" that superiors in the Navy are "not supposed to be talking about at work," according to the slides, which Fox obtained from a U.S. military official who took part in the training at the Pentagon. . . .
West Point cadets taught critical race theory, including addressing 'whiteness,' docs show (Fox News, 20 JUN 22)
The documents reveal that the Army officers-in-training are receiving lessons on CRT, which included lessons on addressing "whiteness" as well as the application of CRT when answering questions. "In order to understand racial inequality and slavery, it is first necessary to address whiteness," one slide reads. . . .
---
A Combat Wounded Iraq War Veteran sent me this pic this AM from a VA Clinic in Sarasota, FL.

Can't say my confidence for a true battle ready military is strengthened knowing that the 'leaders' heading up our military/vets are so focused on avoiding offending via pronoun use. pic.twitter.com/RV1Dr3yZJa

— Christian Ziegler 🇺🇸 (@ChrisMZiegler) April 13, 2022
---
General George S. Patton. I would love to see his response if you asked him what his "Personal Pronoun" was or told him he had to attend a Critical Race Theory" class. Our military could use more like him right now! pic.twitter.com/cHH0PmFj2W

— USAF RET VET AMERICA FIRST 🇺🇸 (@transam1257) August 23, 2022
---
Chinese Military To Just Shout Wrong Pronouns At American Soldiers:
---
BREAKING: Top Army General ADMITS that the BIZARRE practice of forcing women to shower w biological males is harmful to Army recruiting.

Meanwhile, the Biden admin official defended the creepy showers!

— Matt Gaetz (@mattgaetz) April 19, 2023