Senior enlisted US military leaders pushed back against Republican lawmakers' assertions on Thursday that the force is being politicized by what Republicans called "woke" initiatives that the lawmakers claim are hurting recruitment and distracting from the military's mission.
In response to questioning at a congressional hearing from Republican Rep. Mike Waltz, an Army National Guard officer, Sgt. Maj. of the Army Michael Grinston said Waltz's comments about politicizing the military were, in a way, contributing to the politicization.
He added that the Army is there to "support and defend the nation and the Constitution of everybody … That's what good soldiers do. That's what we swore, that we would defend the Constitution of America."
At a hearing on the Hill, several Republican lawmakers have taken issue with the military's efforts to increase inclusion and diversity in the force over the last couple of years, while military leaders have said those efforts help ensure that the US has the best fighting force possible.
Lawmakers have pointed to a Pentagon directive in 2021 for leaders to discuss extremism in the ranks with their troops as an example of politicizing the military, as well as recruiting campaigns launched by the Army that sought to highlight its diverse force.
The issue has boiled over in other congressional hearings, leading to tense exchanges between military leaders and lawmakers. In one such moment during a House Armed Services hearing in 2021, Chairman of the Joint Chiefs of Staff Gen. Mark Milley said it was "offensive" that troops were being called "quote, 'woke' or something else, because we're studying some theories that are out there."
The issue came up multiple times during Thursday's hearing. In one moment, Republican Rep. Cory Mills pressed leaders on "pronoun training" in the services and criticized what he called "woke ideology" as impacting the military's recruitment.
"I'm curious as to, when I talk to people and say, 'Well, why aren't you looking to join the military?' A lot of them say, 'Well, the military has been over-politicized. Well, the military has gone woke.' … We're saying that this new focus, this new shift, this new kind of woke ideology is not impacting recruitment and not impacting our readiness and lethality? I have a hard time believing that," Mills said.
Air Force Chief Master Sgt. JoAnne Bass responded that the Air Force "does not have pronoun training. And … where we could use your help is by sharing that message that your services are not focused on any of those such training more than we are on warfighting."
"That is a fact," she added, "I can assure you of that."
---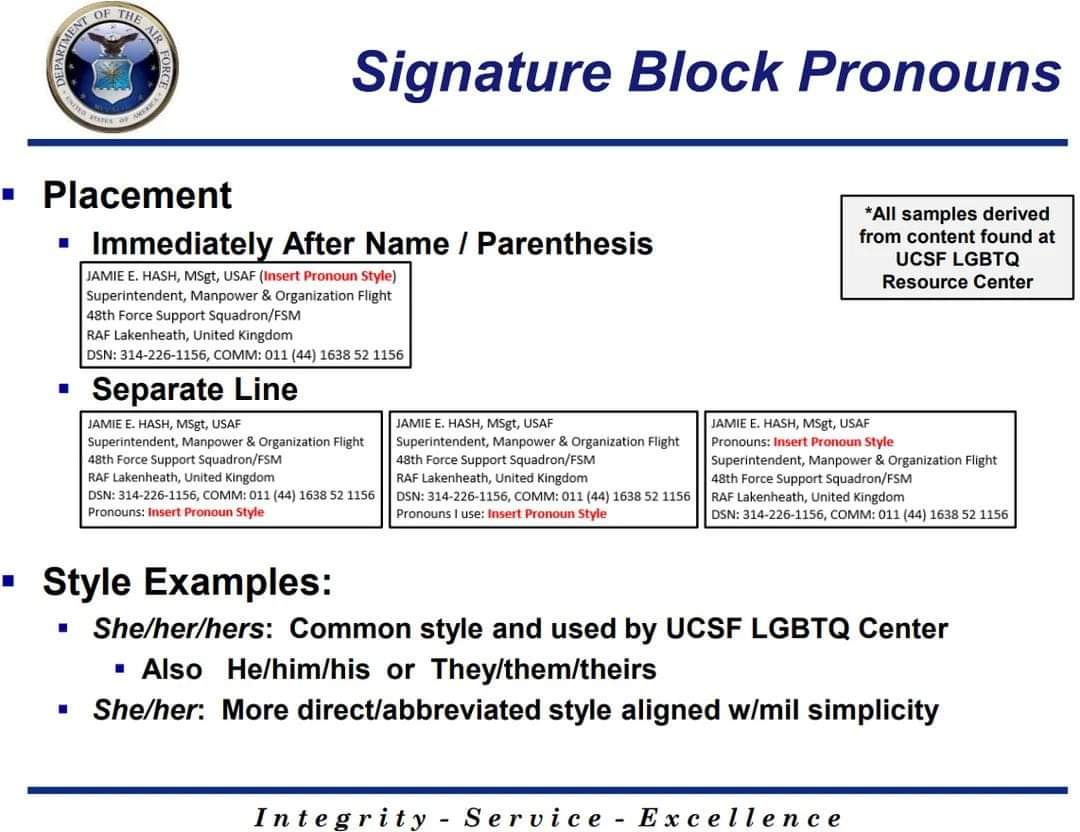 ---
Other leaders also chimed in, explaining their stance in disagreement with Mills' characterization of what was occurring in the services.
"When I looked at it, there is one hour of equal opportunity training in basic training, and 92 hours of rifle marksmanship training," Grinston told Mills. "And if you go to [One Station Unit Training], there is 165 hours of rifle marksmanship training and still only one hour of equal opportunity training."
Sgt. Maj. of the Marine Corps Troy Black told Mills that the Marine Corps was not lowering standards and would not in the future. He also addressed some of the "words" being used in the hearing regarding politicization of the military.
"We're talking about words — there's a word that the ranking member used that I haven't heard yet except from him. It's called 'patriotism' …. So if we want to focus on words, we should probably focus on words like patriotism," Black said. "Some of the words we've used here are not words that we regularly use."
Democratic Ranking Member of the Committee Rep. Andy Kim recognized that the issue of politicization was repeatedly surfacing in the discussion and asked the panel of leaders if they had "any reason to believe that [diversity and inclusion] initiatives are negatively impacting our recruitment, our retention, or lethality of the force?"
Each leader agreed it was not.
Grinston referenced a survey the Army did on barriers to service among potential recruits, saying diversity and inclusion efforts were "not the number one, two, three, four, five reasons" young Americans were not joining.
"I think the narrative that we are focused on that more than warfighting is what's perhaps hurting us," Bass said. (CNN)
---
MILITARY PERSONNEL SUBCOMMITTEE HEARING: SENIOR ENLISTED LEADER PERSPECTIVE
Date: Thursday, March 9, 2023 – 10:00am
Location: Rayburn 2118
Purpose: The subcommittee will receive testimony from the service senior enlisted leaders on the enlisted force.
Sergeant Major Michael A. Grinston
Sergeant Major of the Army
Master Chief Petty Officer James M. Honea
Master Chief Petty Officer of the Navy
Chief Master Sergeant Joanne S. Bass
Chief Master Sergeant of the Air Force
Sergeant Major Troy E. Black
Sergeant Major of the Marine Corps
Chief Master Sergeant Roger A. Towberman
Chief Master Sergeant of the Space Force
Statements
Rep. Jim Banks Opening Statement
Sergeant Major Michael A. Grinston Opening Statement
Master Chief Petty Officer James M. Honea Opening Statement
Chief Master Sergeant Joanne S. Bass Opening Statement
Sergeant Major Troy E. Black Opening Statement