By Captain Brent Ramsey, USN, ret

Last September, the Navy promoted and installed a new Vice Chief of Naval Operations.  Then Vice Admiral Lisa Franchetti got her 4th star and was appointed to the second-highest position in the Navy.
Now after a scant seven months, the betting line going around D.C. is that she will likely be the next CNO based on the identity politics track record of President Biden.
When President Biden had an opportunity to appoint to the Supreme Court, before assessing anyone's qualifications, he announced that a black woman would get that seat, and he followed up on that promise.
Would an identity-based selection for the Navy's top leader be in the best interest of the Navy and the Nation?
No, the nation needs and deserves the very best warrior to lead the Navy into our threatened future.
Admiral Franchetti is a journalism graduate of Northwestern University NROTC, a non-STEM degree which itself is unusual, as the Navy strongly favors STEM degrees for officers.  She has a Master's Degree in organizational management from the University of Phoenix, an online university.
Her biography does not mention any war college credential.  In contrast, her predecessor Admiral William Lescher had multiple commands in combat zones, was a test pilot, had multiple advanced degrees in naval technical fields and his commands won multiple combat zone merit awards.
To naval professionals, for someone to have been promoted to the Navy's highest rank and second highest position based on a NROTC commissioning source with a liberal arts degree, an online masters, no war college or combat zone credentials, would be considered inconceivable.  Perhaps her success is based on a particularly spectacular service record?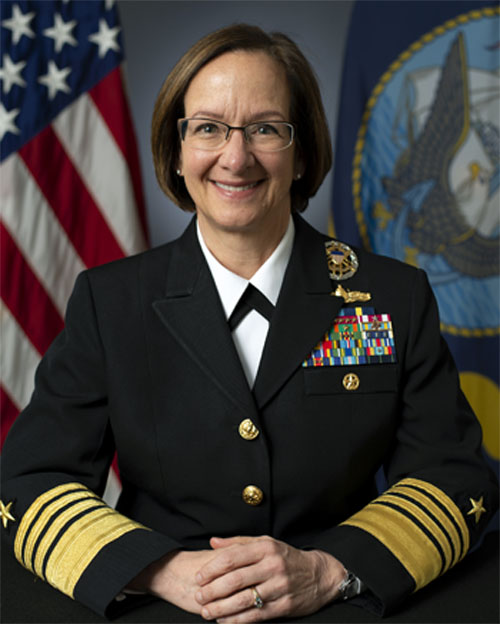 Admiral Franchetti's career path reveals sea tours on a tender, oiler, and three destroyers including command of the USS Ross (DDG-71) and command of a destroyer squadron.  Her biography does not mention any of her commands received awards while she was in command.
Ashore her assignments were CO of a Reserve Center, being an aide, a protocol officer, an Executive Assistant, and a stint at the Naval Academy in charge of a battalion of midshipmen.
As a flag officer, her assignments were to the Joint Staff as the J5 (Strategy, Plans and Policy), Commander, U.S. Naval Forces, Korea; Commander, Carrier Strike Groups 9 and 15, both training strike groups; Commander, 6th Fleet and Naval Striking and Support Forces NATO.
All are important assignments for sure, but not front-line experience in any of the real hot spots.  The rest of her flag assignments were staff positions.
One must ask the question if Admiral Franchetti's educational background and duty assignments have adequately prepared her for the rigors of being CNO?
Has Admiral Franchetti had the type of assignments that test one's mettle for the highest position in the Navy?
Has Admiral Franchetti been tested in the crucible of combat or had command in a combat zone?
Perhaps she has. We have only her public record to rely on which is surprisingly limited.
Traditionally, CNOs have all been Naval Academy graduates with only two exceptions dating back to the CNO position being established more than a 100 years ago.
The CNO is responsible for delivering lethal naval forces and personnel to the warfighters.  Naval forces consist of warriors in ships, aircraft and submarines that are capable of engaging and defeating the enemy anywhere in the world.
The CNO is not a ceremonial, managerial, or political position although it has elements of all of those things.
The preeminent requirement of the CNO is to be the advocate and architect of creating deadly naval forces and people who can quickly and effectively destroy and defeat our nation's enemies.
Many of our other three- and four-star admirals are scattered around the world in combatant commands facing our adversaries.  They are forward deployed potentially in harm's way, standing the watch.  They know the dangers, the capabilities of our enemies in real time.
These senior leaders know best what is needed to fight and win wars both in manpower and weapons including combatant ships and aircraft. Traditionally and historically, the CNO appointees have come from these ranks.
Admiral Franchetti has obviously performed well in all her assignments and for that she certainly should be commended.
But, at a time when China is threatening to attack Taiwan, and North Korea is threatening South Korea and the U.S., with the expanding war in Ukraine, the Navy's top leader must be fully prepared to deliver the ships, carriers, submarines, aircraft, and personnel for complex combat operations to deter and fight our enemies.
The question should be asked by the Congress and the nation, is she up to the task?
Her nomination and approval as the VCNO was typical of the administration's prevailing mantra: "Diversity is a strategic imperative."  There is zero evidence that statement is true.
On the contrary, the most senior positions must be occupied by individuals who inspire confidence based on their experience and abilities, not their appearance.
With war with the People's Republic of China potentially on the near horizon, a war which will mostly likely be primarily a maritime conflict, we must hope and pray that whoever is selected to be the next CNO is someone of extraordinary education, skills, experience, leadership, courage, and tenacity to ensure our victory.
Patriots should unite and urge President Biden to pick the very best qualified officer to lead the Navy into the future regardless of that person's gender, race, or other non-merit factor.
Americans of good will and good sense must unite behind merit being the basis for top leadership in our military, not identity politics.
Lives and the future of our nation are at stake.
Brent Ramsey is a retired Navy CAPT.  He was a military advisor to Congressman Mark Meadows 2016-2020.  He is the author of dozens of published articles on national defense.
First published on American Thinker
TOP PHOTO: WASHINGTON (Nov. 15, 2022) Vice Chief of Naval Operations Adm. Lisa Franchetti spoke at the Region Commander Executive Steering Conference at the Washington Navy Yard, Washington, D.C., Nov. 15, 2022. Franchetti met with Navy installation leadership to discuss the important services bases provide to Sailors and their families. Commander, Navy Installations Command oversees 48,000 employees located across 70 Navy shore installations in 10 regions around the world and is charged with sustaining the Fleet, enabling the Fighter and supporting the Family. (U.S. Navy photo by Mass Communication Specialist 1st Class Charlotte C. Oliver)