By Forrest L. Marion, VMI 1980
Salvatore J. Vitale, Jr., VMI 1961
Carmen D. Villani, Jr., VMI 1976
Henry J. Rogers, VMI 1979
Chalmers L. Glenn, VMI 1980
Loten "Tuck" Masker, VMI 1980
It has been two years since the release of the report investigating charges of "ongoing structural racism" at the Virginia Military Institute.
In October 2020, the governor at the time directed an "independent" review of "VMI's culture, policies, practices, and equity in disciplinary procedures."
Paid for by Virginia's taxpayers, the investigation was among the most consequential outcomes resulting from the governor's unprovoked attack against his alma mater.
In 2023 it is clear to a growing number of VMI alumni – among others – that the lone beneficiary of the investigation was the governor himself, whose political career barely survived it, when in 2019 the news of his racial insensitivities including a blackface incident as a medical school student came to light.
VMI, however, has suffered from the flawed investigation and the implementation of a number of its biased recommendations.
Probably based on an "understanding" with friendly politicians in Richmond, whose support nearly dissipated when he could not get his blackface story straight, in 2019 the governor reinvented himself on race.
Within eight months, he established the first cabinet-level chief diversity (read CRT-friendly) officer in the nation. That was huge.
It also was harmful to those who measure merit above melanin, and prefer performance over pigmentation.
One year later, the governor launched his broadside against VMI in which he directed the investigation of what he called "the clear and appalling culture of ongoing structural racism at [VMI]."
One is hard-pressed to find a more fraudulent statement made by a governor against a major institution in any State.
In VMI's culture of honor, it was a "False Official Statement." Worse, the governor's signature block included the words, "Former President of VMI Honor Court."
Unfortunately, he placed "personal gain above personal honor" – the reason his name goes unmentioned here.
Unsurprisingly, the report of the investigation contained numerous problems. It stemmed from the governor's letter accusing VMI of the very thing that was to be investigated.
In the section addressing the Honor System, investigators complained of the higher percentage of black cadets "drummed out" for honor violations compared with whites – which had nothing to do with the only relevant question, whether or not a cadet had violated the honor code.
Typical of CRT-based efforts, investigators employed a few individual cases of cadet misbehavior to falsely claim institutional racism.
Prior to the report's public release, however, the investigating firm refused to provide VMI's leadership with the opportunity to view the report – a highly irregular practice.
Thomas G. Slater (VMI 1966), vice-chair of the State Council of Higher Education for Virginia – and a former president of the VMI Board of Visitors – resigned in protest.
The most telling feature of the report, however, was a glaring omission. The firm's investigators failed to mention the name of Jonathan Daniels or his memorialization on the VMI post.
The platoon of investigators bypassed the opportunity to include this information when they discussed VMI's iconography, stating, ". . . there is almost no representation of other [non-1860's] military or civil rights iconography on post" (page 12 of 152).
The word "almost" appeared to be their escape hatch for a prejudiced effort. In a lengthy report focused on racism and culture, how in the world could an impartial, competent investigation fail to mention Jonathan Daniels' memorialization?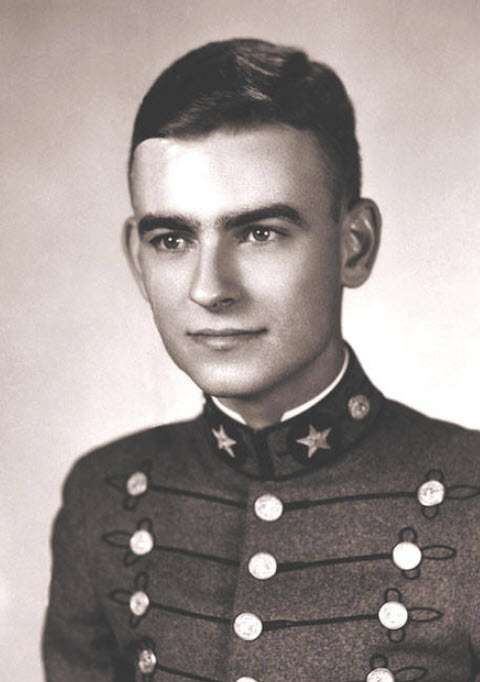 The most likely reason the report omitted this significant memorialization was that it represented among the strongest possible refutations of The Narrative of an appalling, structurally racist culture at VMI.
Jonathan Daniels' self-sacrificial act took place on August 20, 1965, when he deliberately stepped into the line of fire during a Civil Rights era confrontation at Hayneville, Alabama.
He took the full shotgun blast from a white, part-time deputy sheriff who intended to shoot a young black girl outside a convenience store. Daniels pushed the girl down to safety, but he was hit and died instantly.
Daniels – his class valedictorian four years earlier – was by this time studying for the Episcopal Church's ministry. He had taken time off during the summer to participate in voter registration efforts in the South. (An annual Jonathan Daniels Pilgrimage is held in Lowndes County, Alabama, each August, an event I attended in 2018.)
Jonathan Daniels has been recognized in two books and a documentary about his life. The Episcopal Church added the date of his death to its Calendar of Lesser Feasts and Fasts. Daniels' name is included among the fifteen honored at England's Canterbury Cathedral in its Chapel of Martyrs.
In 1997 VMI established the Jonathan M. Daniels '61 Humanitarian Award. President Carter was the first recipient; the second was Ambassador Andrew Young.
In 2004, VMI dedicated the Jonathan Daniels Arch and Courtyard (one of only four named archways at the VMI barracks). All of this predated the neo-Marxism marked by CRT's ascendance and that of its "close cousin," Diversity-Inclusion-Equity (DIE).
When he heard of Daniels' self-sacrificial act, Dr. Martin Luther King said, "One of the most heroic Christian deeds of which I have heard in my entire ministry was performed by Jonathan Daniels."
For the mandated racism investigation to "cancel" Jonathan Daniels from its report – as well VMI's strenuous recognition of one of the true heroes of the Civil Rights era – represented either a case of shameless partiality or inexcusable incompetence.
Moreover, it capped a compromised and flawed investigation. It deserved to be trashed.