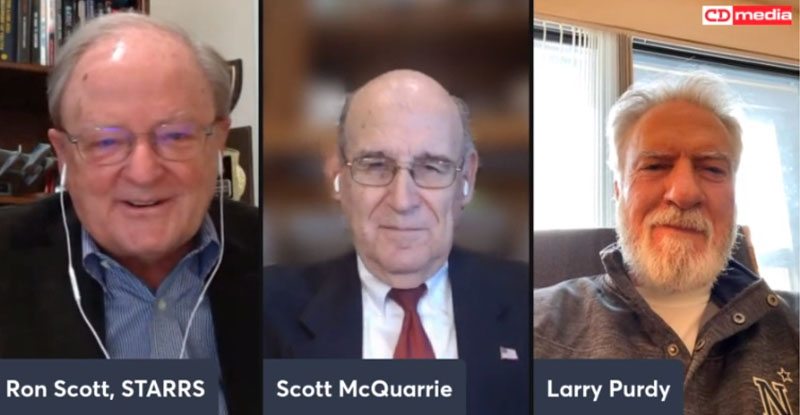 On this STARRS podcast, STARRS President Ron Scott speaks with lawyers Scott McQuarrie, USMA 1972, and Larry Purdy, USNA 1968, on their court cases dealing with affirmative action in U.S. military academies.
—
Claude M. (Scott) McQuarrie III is President of Veterans for Fairness and Merit, a West Point graduate, former Infantry officer, and attorney.
BRIEF OF VETERANS FOR FAIRNESS AND MERIT AS AMICUS CURIAE SUPPORTING PETITIONER (pdf)
STUDENTS FOR FAIR ADMISSIONS, INC., Petitioner, v. PRESIDENT & FELLOWS OF HARVARD COLLEGE (US Supreme Court, 9 May 22)
By Scott McQuarrie
Is DOD Putting America in Danger? Veterans Group Testifies Before SCOTUS to Expose Truth (Daily Caller, 1 Nov 22)
Affirmative action in military service academies is a national security risk, a veterans group argued, directly contradicting the Department of Defense stance presented at Monday's Supreme Court hearings.
One of the cases argued Monday could overturn a fundamental principle by which the U.S. military determines who fills the officer corps ranks by making it unconstitutional to consider race in university admissions, a possibility DOD officials say would undermine racial diversity in the force and thus harm national security, according to the Army Times.
However, the military academies' admission process could undermine national security by privileging race over qualification and fostering resentment among the ranks, a group of hundreds of veterans argued in an amicus brief.
"In the military, even slight differences in leader quality can make the difference between mission success or failure and life or death on the battlefield," Scott McQuarrie, president of Veterans for Fairness and Merit, said……(read more)
No, Affirmative Action In The Military Doesn't Boost National Security, It Erodes It (The Federalist, 25 Oct 22)
By: Gen. Ronald R. Fogleman and Claude M. McQuarrie III
Warfighters deserve the best-qualified leaders available, regardless of race. Providing them is a moral and national security imperative.. . . (read the article)
Our Military Needs Officers Chosen For Their Qualifications, Not Skin Color (By Elaine Donnelly, The Federalist, 2 DEC 22)
—
Larry Purdy is an attorney in private practice in Minneapolis, Minnesota and one of the trial lawyers who represented the plaintiffs in the University of Michigan race preference admissions lawsuits decided by the United States Supreme Court in 2003 (Grutter v. Bollinger and Gratz, et al. v. Bollinger). He is the author of Getting Under the Skin of "Diversity": Searching for the Color-Blind Ideal (Robert Lawrence Press, 2008). He received a B.S. in 1968 from the United States Naval Academy and a J.D. from William Mitchell College of Law in 1977. Website | Articles on PJ Media
Operation Racial Preferences (By Larry Purdy, National Review, 23 May 2003)
As a 1968 graduate of the United States Naval Academy and one of the lawyers representing the plaintiffs in the University of Michigan admissions lawsuits, I had a special interest in the amicus brief filed by a small group of retired military officers who support Michigan's race-conscious policies. Among the brief's signers were several officers known chiefly for their close alignment with the Clinton administration — an administration which was fully committed to race-conscious decision-making.
Apart from my role as an advocate in the Michigan cases, my own interest in the retired officers' brief was heightened by the fact that two of them, Admiral Dennis Blair and Major General Charles Bolden, were my Naval Academy classmates. Since race is so important to the University of Michigan, let me point out that Denny Blair is white, and Charlie Bolden is black. In 1964, Denny and Charlie entered the Naval Academy because each was easily among the very best applicants who applied. Charlie Bolden didn't need 20 extra "points" because he was black, or the condescension of being evaluated against a lower standard, in order to qualify. And he surely was not admitted to meet any "quota" or "goal," or to help create some "critical mass" of underrepresented minority students. It was apparent from the nearly all-white class that showed up that hot, humid summer that such concerns did not exist. . . . . (read the article)
An Open Letter to John Kerry (By Larry Purdy, 26 Mar 2004)
—