I am a proud veteran . I attended college on a Navy scholarship and then served more than four years on active duty.
I remember being taught that our mission was to ensure the freedom of all Americans, to defend freedom around the globe, and not just defeat our enemies, but to destroy them. We were a well trained, well equipped, extremely motivated fighting force.
I was in a division of almost 50 men from all walks of life: rich, poor, educated, uneducated, white, black, Filipino, Christian, Muslim, and Jewish. No one cared about the backgrounds of their brothers in arms. We only cared about their ability to complete the mission. As someone once said, "There are no atheists or racists in a foxhole when the bullets start flying."
I no longer recognize our military.
Politicians and politically motivated senior officers have embraced "wokeness" in our armed forces, placing equity above mission, individual achievement and happiness above unit cohesion, and forcing beliefs on the rank and file instead of embracing all beliefs.
Simply put, the U.S. military has been emasculated and is not mission ready. . . .
. . . It is one thing to reduce physical fitness standards for some recruits, but it is entirely another thing for branches of the military to focus their efforts on initiatives that do not contribute to mission readiness and the ability to defeat the enemy. But that's exactly what our military is doing. . . . (read more on Washington Examiner)
---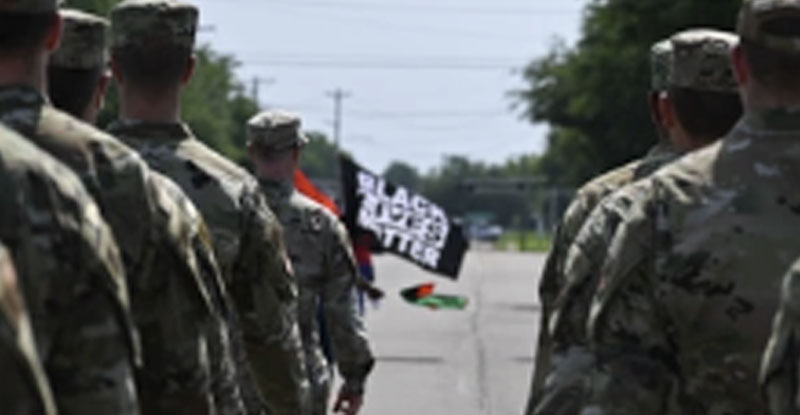 COLUMBUS, MS, UNITED STATES
06.18.2022
(DVIDS) Airmen from the 14th Flying Training Wing, march with community members in the 25th Juneteenth Celebration Parade, Jun. 18, 2022, in Columbus, Miss. President Joe Biden signed the bill into law June 17, 2021, making Juneteenth the 11th federal holiday. (U.S. Air Force photo by Senior Airman Jessica Haynie)