(Heritage Foundation) A new survey of active U.S. military members reveals that 68 percent have witnessed some or a significant level of politicization in the military, and 65 percent of those polled say that it is a concern.
Of all the issues polled, policies that allow unrestricted military service by transgender individuals were of greatest concern for active military members, with eight in 10 (80 percent) saying that it decreased their trust in the military somewhat or a great deal.
The results could have implications for the future of the military. Seven in 10 active military members (68 percent) said that politicization would somewhat or significantly affect their decision to encourage their children to join the military.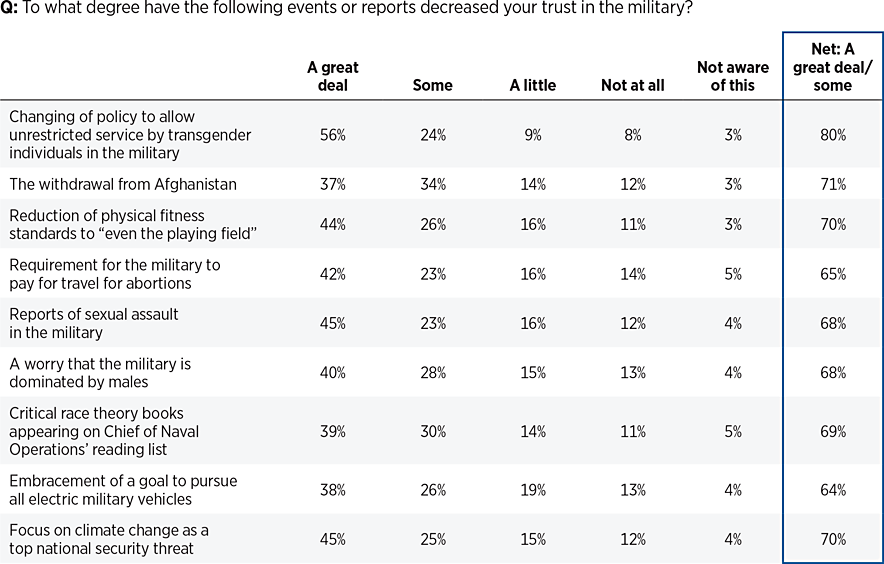 –
ABOVE PHOTO: ATLANTIC OCEAN (Jan. 18, 2017) Sailors and Marines receive transgender training aboard the amphibious assault ship USS Bataan (LHD 5) from Ms. Ingrid Smith, a deployed resiliency counselor, in the ship's classroom. Bataan is underway conducting Composite Training Unit Exercise (COMPTUEX) with the Bataan Amphibious Ready Group in preparation for an upcoming deployment.
–
Methodology
Data collection was undertaken by the sample and data experts at Maru/Blue between December 12 and 19, 2022, among a random selection of 1,000 American adults aged 18+ and an additional sample of 299 young Americans aged 18 to 24, who are Maru Springboard America online panelists. For comparison purposes, a probability sample of each size has an estimated margin of error (which measures sampling variability) of +/- 3.1 percent (n=1000) and +/- 5.7 percent (n=299), 19 times out of 20. The results have been weighted by education, age, gender, and region to match the population according to U.S. Census data, which ensures that the sample is representative of the entire adult population of the United States. An additional sample of active military personnel (n=301 +/- 5.7 percent) was included to complete the study sample frame