Uniformed and civilian Defense Department officials defended LGBTQ+ service members and diversity and inclusion efforts on Wednesday at the Pentagon's annual Pride Month celebration.
Under Secretary of Defense for Personnel and Readiness Gilbert Cisneros emphasized that younger generations, which the military has had difficulty recruiting, hold diversity and inclusion efforts in high regard when weighing professional options.
"It is a diverse talent pool that ultimately contributes to our success on the battlefield and beyond'" Cisneros, who serves as the Pentagon's chief of diversity and inclusion, told the audience. "Diversity and inclusion are imperative to recruit and retain the best and brightest talent, we must ensure that we reach out to all communities."
The military has suffered from a recruiting crisis in recent years. Aside from the Marine Corps, each service is projecting shortfalls in Fiscal Year 2023 as the branches struggle to attract new recruits.
The Army is facing the largest deficit, with the service projected to miss its recruiting mark by 10,000 soldiers by the end of the season.
Still, the Pentagon's diversity and inclusion efforts have not been enacted without controversy. Republican lawmakers on Capitol Hill have voiced their opposition to numerous initiatives, which include increasing diversity among service members, opening up the services to transgender recruits and researching racial biases in the armed forces.
Sen. Tommy Tuberville (R-Ala.) accused President Joe Biden last year of trying to build a "woke Army," and in May, Rep. Mike Waltz (R-Fla.) introduced the WARRIOR Act in the House to address what he views as the "politicization" of the armed forces.
"The Pentagon has diverted its focus from lethality and have instead pushed initiatives that have politicized our war-fighting ranks and harmed our military readiness," Waltz said in a statement. "Young Americans don't want to join what was once a trusted institution that has become overly politicized and hyper-focused on DEI initiatives."
The legislation introduced by Waltz would strip Pentagon funding for investigating extremism and conducting "race-conscious" promotions and assignments, among other items.
Diversity and inclusion, meanwhile, comprises much more than efforts to get people in the door of the recruiting center, Space Force Lt. Gen. DeAnna Burt said. Initiatives also focus on the service members' experiences while in uniform. If local laws make a service member feel unsafe, Burt told the audience, she has to reconsider placing the most qualified candidate in a given location.
"Those barriers are a threat to our readiness, and they have a direct correlation to the resiliency and well-being of our most important operational advantage: our people," she added.
In addition to the more than one million military veterans, there are roughly 65,000 LGTBQ+ troops currently serving in the armed forces, according to the Department of Veterans Affairs. . . . (read more on Navy Times)
---
Military's LGBTQ community is 'under attack,' top officials say (Politico, 7 JUN 23)
Senior Defense Department leaders used an event celebrating Pride Month at the Pentagon on Wednesday to sound the alarm about the rising number of state laws they say target the LGBTQ community, warning the trend is hurting the armed forces. . . . . She also pointed to a 2020 poll showing that almost 20 percent of people born between 1997 and 2004 — a key demographic for military recruiting — identify as LGBTQ. That means that without the proper policies and messaging, she said, the military could alienate a significant portion of the population it is targeting for recruiting. . . . .
[Our note: Over even a greater recruitment target population??]
---
'Hate for Hate's Sake': Pentagon Officials Wade Into Politics, Slam 'Anti-LGBTQ' Legislation at Pride Event (Breitbart, 7 Jun 23)
Top defense and military officials waded into politics on Wednesday, slamming "anti-LGBTQ" legislation at an official Department of Defense Pride Month event at the Pentagon.
---
VIDEO:
Defense Officials Attend Pride Ceremony (DVIDS, 7 JUN 23)
Deputy Defense Secretary Kathleen H. Hicks attends the Defense Department's LBGTQ+ Pride ceremony in the Pentagon. Speakers at the 12th annual event are: Gilbert R. Cisneros Jr., undersecretary of defense for personnel and readiness; Space Force Lt. Gen. DeAnna M. Burt, chief operations officer; Navy Cmdr. Emily Shilling, a deputy program manager at Naval Air Systems Command; and Dixon Osborne, an executive director of the Institute for Strategic Dialogue. The event is sponsored by DOD's Office of Diversity, Equity and Inclusion.
Click to play video:
---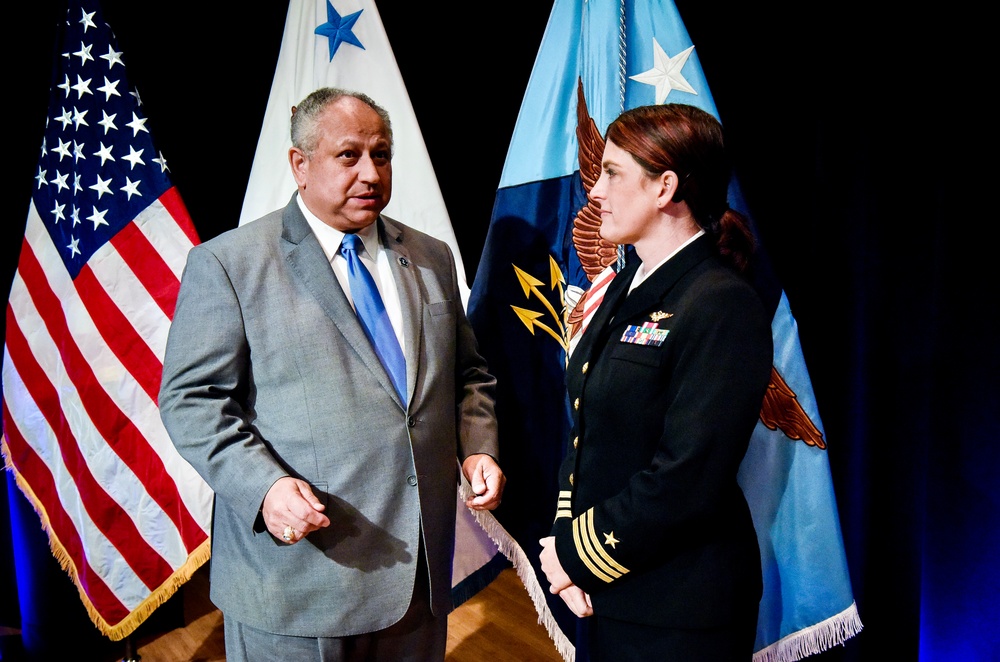 (DVIDS) WASHINGTON (June 7, 2023) Secretary of the Navy Carlos Del Toro talks to Cmdr. Emily "Hawking" Shilling during the Department of Defense's 12th Annual Pride Month celebration. The Bureau of Navy Personnel (BUPERS) recently granted a flight status medical waiver to Shilling, making her the Navy's first transgender Naval Aviator to be cleared, post-transition, for flying duty.