Part of the mission of STARRS is to educate/call-out unlawful/harmful policies/practices in the military, like the illegal COVID vax mandate and the radical/racist CRT/DEI/Woke agenda.
Some STARRS leaders have been doing this longer than most.
Mike Rose, a 1969 graduate of the US Air Force Academy and a graduate of New York University School of Law and the Harvard Business School, is the Executive Vice President and General Counsel of STARRS.
As a lawyer, he has been a champion for justice for 50 years.
Back in the early 1970s, with great professional courage as a young Air Force Captain, Rose analyzed, documented and publicized as unlawful and, ironically, "dishonorable," certain applications of the honor systems at our nation's service academies.
Rose published his research in a New York University Law Review article, "A Prayer for Relief" (see A PRAYER FOR RELIEF (usafa.edu)), in an effort to introduce due process in adjudicating honor violations at the Service Academies–yet was ignored.
He obtained his documentation in part by winning a landmark U.S. Supreme Court decision regarding the then new Freedom of Information Act, which established the precedent of redaction (see Department of the Air Force v. Rose :: 425 U.S. 352 (1976) :: Justia US Supreme Court Center).
One of his major findings is that the academies, especially West Point and the Air Force Academy, frequently violated laws by denying cadets and midshipmen their Constitutional rights of "due process."
Specifically, Rose demonstrated that one or more of the academies were violating specific regulations and Constitutional provisions, including but not limited to:
1. The "Silence" of cadets at West Point, whereby cadets harassed and conspired to harass/ force other cadets to leave West Point, violating two specific West Point regulations and the US Constitution;
2. The AFA conducted interrogations and hearings about alleged honor code violations on occasions in the middle of the night, around the clock, in an atmosphere of hysteria, in a very coercive manner, and with the results that the accused cadets were not able to prepare their defense and errors could be made (another STARRS officer personally experienced this, being yanked out of his bed at 2 am and harshly interrogated by other cadets regarding a cheating scandal with which he was in no way involved);
3. At four academies, accused cadets were not allowed to be present when evidence against them was being presented to a cadet honor committee at a cadet honor hearing; and
4. Cadets were coerced to not exercise their rights to appeal to a board of officers findings of guilt by a cadet honor board.
Rose showed that those practices and other practices violated specific laws, led to errors and, very significantly, taught cadets incorrect and illegal ways to administer justice that they learned to believe were okay/justified to be implemented when they later became officers if they thought "honor" was involved.
The academies strive to role model for cadets everything else cadets will be expected to do as officers.
Why were the academies teaching incorrect models, routinely and often violative of laws, about how to administer justice?
Rose said, "because military leaders denied any wrongdoing and would not take any corrective actions to cause compliance with the law, the only way to get the changes made was to publicize the law-breaking to let the public and their civilian representatives in Congress know what has happened and see what happens." (Does this sound familiar today?)
Going to the media, Rose said, was a last ditch, almost desperate tactic, and it worked. CBS 60 Minutes interviewed him in 1974 and for the first time since it aired, the episode "Captain Rose vs 'The System' is now available on YouTube from the 60 Minutes archive.
You can watch the video here:
Mike Rose was successful in bringing due process at the Service Academies when they adjudicated honor violations, which also led to the elimination of "The Silence" practice/punishment at West Point, and the establishment of "redaction" as a precedent of the Freedom of Information Act (FOIA).
During his three years with STARRS, Rose has guided 43 FOIA requests, and represented hundreds of cadets, midshipmen, airmen, NCOs and officers during the illegal COVID vaccination mandate.
In addition, Rose has caused the filing of a lawsuit challenging DoD's interference with the academies' Boards of Visitors, created by Congress to provide oversight over the academies (see Stirrup vs DoD), and of a lawsuit challenging the legality of the military's COVID vaccine mandate (see Clements vs Austin).
He also collaborated with a Judicial Watch lawsuit on behalf of STARRS, resulting in a federal judge directing the production of hundreds of pages of documents to comply with the law after two years of stonewalling by service academies.
The once-again complacency and denials by senior officers with regard to the CRT/DEI/Woke agenda and the COVID vax mandate in the military demonstrate the importance of recognizing, as Rose did so early on, the seriousness of an issue and having the courage to take it on–a commitment that epitomizes STARRS.
More recently, Rose spoke to a Take Charge Minnesota gathering. In his speech, he gave evidence of racism and radicalism at the Air Force Academy. Watch his speech here (link also below)
It takes courage to promote truth and justice. This is what made America great.
Mike Rose is a force multiplier for the STARRS mission to educate the public, our courts, and Congress about racism and radicalism in our services.
---
About Mike:
STARRS Executive Vice President, General Counsel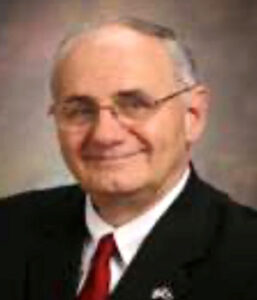 Michael T. Rose is a 1969 graduate of the United States Air Force Academy and serves as STARRS' Executive Vice President and General Counsel. Mike has a Juris Doctor degree from the New York University School of Law, where he was an Editor of the Law Review, and an M.B.A. from Harvard Business School.  He has the highest professional rating of "AV" and is on the Bar Register of Preeminent Lawyers from Martindale-Hubbell. Mike was an associate attorney at a major law firm and has founded and been President of various entrepreneurial companies. Mike was the winner and plaintiff of a landmark US Supreme Court decision about the Freedom of Information Act (FOIA). He served four terms as a Republican State Senator in South Carolina, and has lectured at various universities, colleges, professional organizations, and television programs, including on CBS "60 Minutes."
---
Mike Rose: DEI is manifesting itself in the military in very dangerous ways
USAFA Graduate Michael Rose Letter to CEO of Association of Graduates
To push woke ideology, Biden illegally gutted military academy oversight boards